Contact US
Email:

service@u4gm.com

Skype ID

For Game Currency:

coolyou8
FAQ
1. Why should I choose myesogold.com?

We have 8 years experience in MMO game support, you can enjoy the best service when you buy ESO Gold on our site, and we also ensure you the fast delivery within 15 minutes and the cheap price.

2. What kind of ESO Product do you offer?

We Sell ESO Gold, items, the CD-Key and the Power Leveling. At the same, we offer you ESO guide and related news. If you have any question about ESO Online, you can contact us at any time.

3. What more can I enjoy if I register a member?

If you register as a member on our site, you will enjoy the VIP discount in our store, and you will be kept updated once we have any member activity and promotion. Also, you personal information will be totally secured by our system.

4. What kind of payment methods you support?

At present we accept Paypal, credit cards, debit cards, gift cards and Western Union. If you have other request for payment methods, you can contact us and we will try our best to satisfy you.

5. Can I enjoy a fast ESO Gold delivery after payment?

The answer is yes as long as you offer us a correct order information, we have a safe system to ensure the fast delivery to you once you finish your payment here. Usually, you can get your gold and items as required within 10 minutes, and if you can't receive it in time, try to contact our live chat service, they will help you in time.
Path of Exile: We Can See More Details In A Future Expansion
Path of Exile is available in free to play format on both PC and Xbox One. Since its staging in 2013, it has not stopped adding content and updates. If you actively follow the action / RPG Path of Exile, you probably know that the visual component of the project has already changed several times. The developers are not going to stop there. The PC build of the game gets updates around a month earlier than the Xbox build. More update and news, click for source.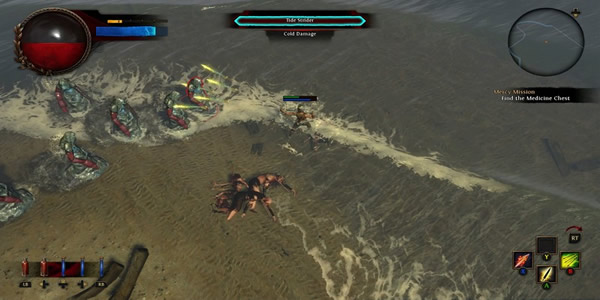 One of the biggest complaints players of Path of Exile on Xbox One is the long wait times before updates. Grinding Gear exhibits a brief sample of the experimental technology that is testing internally and that hopefully, we can see in a future expansion, when it is ready. In this release they say that these improvements do not have a negative impact on the performance of the game and that the priority is to improve the performance while improving the graphic quality as much as possible.
While the game is clearly inspired by Diablo 2, it also has many of its own unique elements - namely its in-depth build customization systems. Diablo 3 was my first introduction to the dungeon-crawler, hack-and-slash subgenre of action-RPG's. I played Path of Exile when it first came out in open beta, and I'm full with excitement in my heart. The most powerful defense in this game is movement.
Now you're probably realized I'm a pretty big fan of Path of Exile, the free-to-play action/RPG from Grinding Gear Games. All classes have a base mana regeneration rate of 105% of their maximum mana per minute. Each item has a level associated with it that is equal to the monster level of the area it dropped in. You have access to buy path of exile items from U4GM.